Music
Discography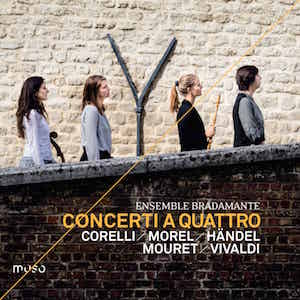 Our first album "Concerti a quattro" was released on 10 January 2020 on the label MUSO. Here is the presentation of the album on MUSO's website.
To purchase an album please write us an email at contact@ensemblebradamante.com and we'll be happy to mail one or several copies your way!
Recording: Bornival Church (Belgium), February 2018
Sound, recording and editing engineer: Frédéric Briant
Artistic direction and production: Ensemble Bradamante
Record Label: Muso
Release: January 2020
Ref: MU-034 / Bar code: 5425019973346
Price: 20 € + shipping.

The program Concerti a quattro holds a special place in our hearts and we have had the chance to perform it for several years. These virtuosic and breathtakingly beautiful masterpieces are finally "in the box" for every home to enjoy!


✦ CONCERTI A QUATTRO ✦

Arcangelo CORELLI, Concerto Grosso XVIII fatto per la notte di Natale (Christmas Concerto), arrangement by Johann Christian SCHICKARDT
The Concerto by Corelli, generally played as a concerto grosso with orchestra, is a real classic of the Christmas repertoire. It became so popular already at the time of its creation that a lot of smaller ensembles like ours were over the Moon when J.Ch. Schickhardt made a transcription.
Jacques MOREL, Chaconne en trio
With Jacques Morel's Chaconne en trio and its bass solo part, the 5-string cello played by Leonor Palazzo reveals its entire beauty.
Georg Friedrich HÄNDEL, Concerto a quattro
Another unusual and fascinating transcription, the concerto by Händel is a jewel in presenting and playing with the different characters of the instruments thoughout the four movements. The arrangement of the concerto made for our ensemble has been unanimously praised for its balance and authentic colours.
Jean-Joseph MOURET, Concert de Chambre n°1
Besides these well-known pieces and composers of the Baroque area, you will get a chance to discover the First Concert de Chambre by J.-J. Mouret. Inspired by the French dance suite, he reveals his version of the chamber concerto, presenting brilliantly each soloist, notably in the chaconne.
Antonio VIVALDI, Concerto for recorder, oboe and continuo RV103
Lastly, the concerto by Antonio Vivaldi portrays the recorder as the main soloist, with the oboe playing the role of ripieno and interlocutor.
A sharp interpretation that knows how to sing and breathe.
La Libre Belgique (BE), 01/2020


The 4 musicians are compelling by their search for balance and intense expression, notably in the Christmas Concerto, in G minor (op. 6, nr 8) by A. CORELLI. A successful dive in the midst of the Baroque.
Édith Weber,
Emeritus professor at Université Paris-Sorbonne.
Musique Sacrée - L'Organiste (FR) 200901
Ensemble Bradamante inspires with its temperament and its great passion for music. A CD to be warmly recommended to all fans of unconventional Baroque music.
Ich habe gehoert (DE), June 2020.


At the end of this fortunate journey through reduced musical forms highlighting each instrument, the seduction undoubtedly operates.
L'Actualité du disque Lex News (FR), March 2020


Radio broadcasts:
Musiq'3 (BE): "Demandez le programme" (54 minutes) interview by Camille De Rijck (2020/01/15)
Musiq'3 (BE): "Chronique Nouveautés" (5 minutes) presentation by Nicolas Blanmont (2020/01/16)
CKRL (CA): "Continuo" presented by Denis Grenier (2020/02/09, live only)
RCF (FR): "Sortez les violons" (25 minutes) presented by Bernard Niedda (2020/08/01)
A special guest (live recording)
We had the pleasure of having Laura Pok and her violone join us for this beautiful piece by Selma y Salaverde. Here is our performance from the 22 May 2015 at the Sainte-Étienne Church in Waha, Belgium.

Canzon a doi Basso e soprano, Bartolomé de Selma y Salaverde.
Anne-Catherine Gosselé, sopran recorder
Leonor Palazzo, cello
Laura Pok, violone
Paule Van den Driessche, harpsichord


Illustration by Juan de Arellano (1614-1676): Still Life with oses, Tiger Tulips, White and Blue Aquilegia, 1670.
Telemann et Philidor
These two sonatas were recorded in July 2011. For other more recent musical recordings please visit Video and News.


GEORG PHILIP TELEMANN (1681-1767)
Sonata in F major TWV 42:F7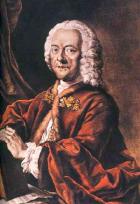 Telemann was one of the most prolific composers in history and was considered by his contemporaries to be one of the leading German composers of the time. Telemann's music incorporates several national styles: French, Italian, and Polish. His music is an important link between the late Baroque and early Classical styles.
Telemann composed more than hundred of trio sonatas but only four are originally written for two recorders and basso continuo. The autograph score of the Sonata in F major is situated in Darmstadt.
PIERRE DANICAN PHILIDOR (1681-1731)
2d Suitte for two recorders and basso continuo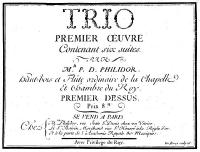 Pierre Danican Philidor was a French musician and composer under Louis XIV. The son of Jacques Danican Philidor le cadet, he became oboist and violinist of la Grande Ecurie du Roi Louis XIV in 1697. He later obtained a position as gambist at la Chambre du Roi. Louis XIV was extremely pleased with Pierre D. Philidor and considered his music as the « perfect representation of his purest taste for the arts ».
The second Suite belongs to his « Premier Œuvre de Trio, contenant 6 Suites », dedicated to the Bishop of Rennes, Grand Maître de la Chapelle du Roy.