Biographies
These are experienced musicians, spurred on by a thirst for discovering repertoire and varied styles. They are hard-working and, importantly, manage to each retain their own personalities whilst also creating a unique cohesion.

Bernard WOLTÈCHE
cellist and chamber music teacher at the Conservatoire Royal de Bruxelles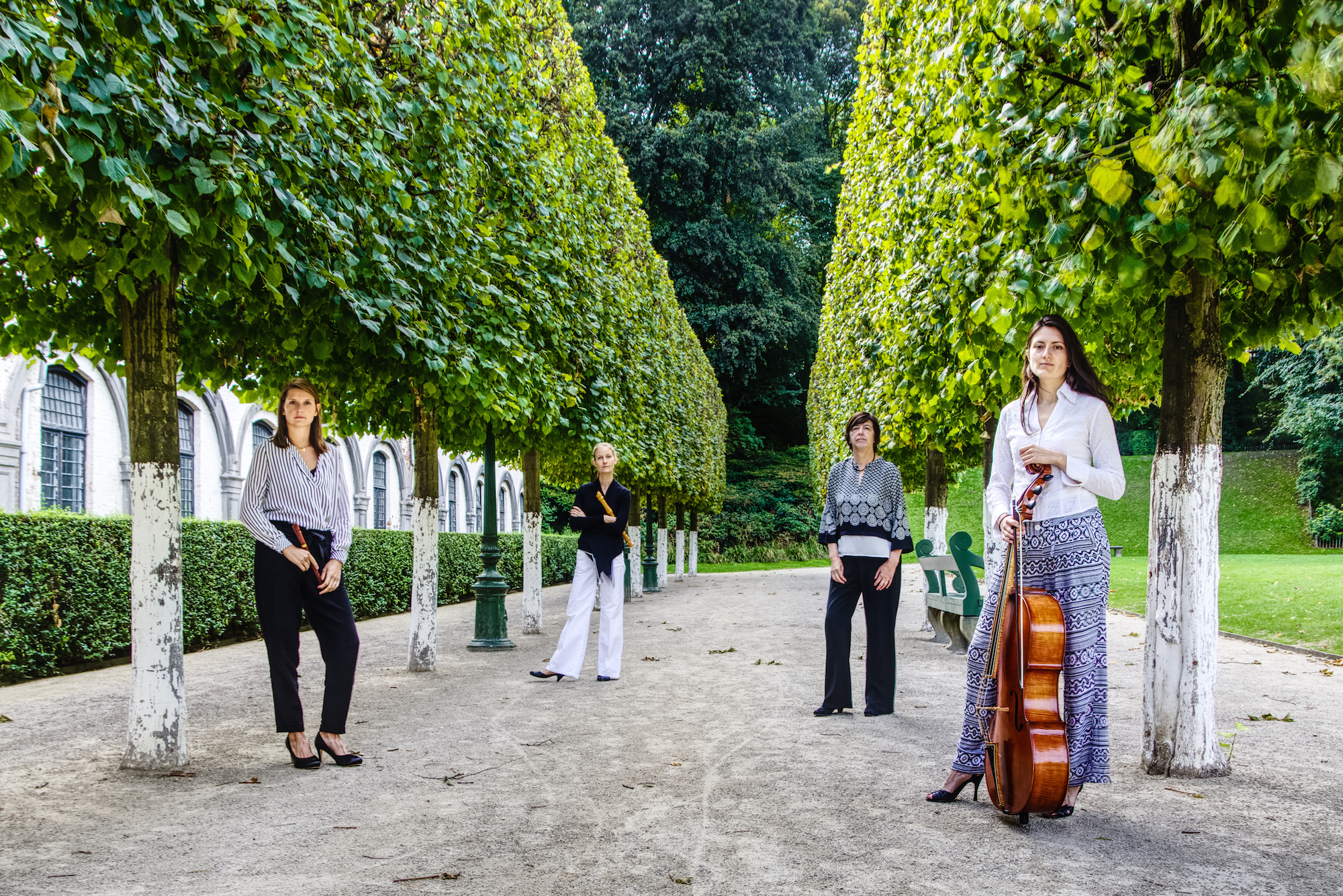 It could be said that Ensemble Bradamante has always existed because its history is long and goes as far back as the first musical years of its young members. However, the group as we know it today came together in the context of the Axion Classics competition back in 2006 . They walked away from the contest with a first prize, which led them to perform at several events on the Belgian music scene such as the preview of the Festival de Wallonie and the Juillet musical de Saint-Hubert.
In 2010, Ensemble Bradamante reunited after a year-long break during which the musicians widened their experience in different conservatoires of music around Europe. Enthusiastic and inspired, Anne-Catherine Gosselé, Leonor Palazzo, Rachel Heymans and Paule Van den Driessche threw themselves into the creation of the character, musical colours and unique repertoire of the Ensemble. More recently, they have immersed themselves in the world of Johann Sebastian Bach with a series of concerts dedicated to the composer while simultaneously creating a fascinating programme entitled Yesterday Tomorrow following their research into the tones and colours associated with 17th century avant-garde music.
The group finds inspiration for its next musical journey on the other side of the Channel, embracing British music from the Middle Ages to the present day. Ensemble Bradamante has been invited to perform a Fringe concert at the Festival Oude Muziek Utrecht 2012.
ARTISTIC APPROACH
Anne-Catherine Gosselé, Rachel Heymans, Leonor Palazzo and Paule Van den Driessche let their audience discover original, and with sometimes unedited instrumentation, pieces by using the new possibilities offered by the big family of recorders and the large repertoire of ancient music. The listener will be impressed by the group's solid preparation to turn the complexity of their music into a cohesive performance, and will understand the quartet's joy and pleasure that they experience as they perform together.
For ten years now, four young musicians of the Ensemble Bradamante have enjoyed playing together and seeking new opportunities. Their repertoire is varied as they perform pieces, both popular and less known, that have personal meaning to each member. The quartet accurately portrays the historical truth that allowed the musicians during the baroque period to use the instruments and the compositions of that time to play all kinds of music.
These carefully chosen pieces form a continually evolving repertoire that spans the Italian pre-baroque period through the 21st-century contemporary music. The group's repertoire includes baroque period trio sonatas from Spain, Germany, Italy, France, England and Belgium. The Ensemble Bradamante combines the enthusiasm of the younger members with the rich experience of the harpsichord player. Together they seek new and challenging pieces from which they can grow as musicians. The quartet does not set out to focus on a specific period or composer, or only performs unedited music. Rather they focus on collaboration, with the goal of communicating the expressive and interpretative possibilities of music by performing pieces with personal meaning and then sharing them with the world.
The Ensemble Bradamante is a working, efficient, curious, open and constantly evolving quartet.
Rachel HEYMANS

recorder, Baroque oboe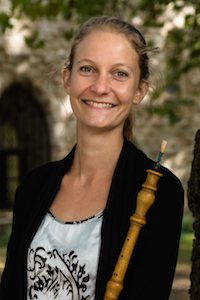 Rachel Heymans, born in 1988, first came in contact with the recorder thanks to her music school teachers Jean-Pascal Hinnekens, Michel Keustermans and Catherine Verkindere. She then studied under Frédéric de Roos, Laura Pok and Tomma Wessel at the Royal Conservatory of Brussels receiving her Masters Degree with Magna cum Laude in 2011.
Eager for new experiences, she took advantage of an Erasmus exchange and focused on contemporary music under Gerd Lünenbürger at the Universität der Künste Berlin. She had a prominent role in concerts for the PRIME 2010 and 2011 project, conducted by Antonio Politano, in which works for Paetzold flutes and live electronics had their première. After recieving the Special Heritage Award from the Conservatory of Brussels in 2011, she entered the Schola Cantorum Basiliensis botanizing in Medieval and Renaissance recorder music under Corina Marti. At this time she began expanding her skill set and enrolled for the baroque oboe class taught by Katharina Arfken. Since 2016 she has also a Masters Degree in baroque oboe and has taken part in many masterclasses with renowned ensembles such as L'Orchestre Français des Jeunes baroque, conducted by L.G. Alarcon, orchestra classes with Vaclav Luks, Concerto Köln and the Freiburger Baroque Orchestra.
Besides her interest as an interpreter of music, she is an active promoter of music for well-being in hospitals and works as a teacher of the recorder. As founder member of Ensemble Bradamante and the Hamelin Consort, which was awarded second prize at the « Förderpreis für Alte Musik Saarland 2012 », Rachel Heymans searches for different ways of mixing timbres, adaptating and transcripting works from all horizons. With solo or chamber music projects such as Cetra d'Orfeo or Ensemble ad Mosam, she has performed in Belgium, Netherlands, France, Germany, Israël, Sweden, Czech Republic and Poland.
Anne-Catherine GOSSELÉ

recorder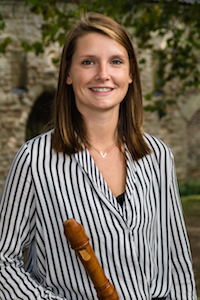 Since a very young age Anne-Catherine Gosselé has had an unrelenting interest in the music of the recorder being tutored, among others, by Catherine Verkindere. She furthered her studies at the Royal Conservatory of Brussels under Frederik de Roos, Laura Pok and Tomma Wessel. She completed her training with an Erasmus exchange, studying under Agostino Cirillo, at the Conservatory of Murcia, Spain. In 2011 she completed her Masters Degree with Magna cum Laude in Brussels.
She has been awarded many prizes at various major competitions including the "SONBU" International Recorder Competition in Utrecht and at the Axions Classics competition, both as soloist and together with Ensemble Bradamante.
Anne-Catherine has recorded two CDs with the orchestra Divertimento and as a laureate of the Jeunes Musiciens competition. She has performed at the Nuit musicale de Seneffe with Cetra d'Orfeo and Ensemble ad Mosam. She recently joined the recorder quartet Alba Novella. As an active member of the Cerf Volant association she brings music to cancer patients. She currently teaches recorder in several music schools in Belgium.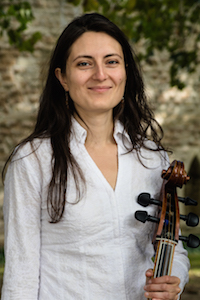 The Belgo-Argentinian cellist Leonor Palazzo was awarded a Masters Degree at the Royal Conservatory of Brussels in 2009. She was a pupil of Marie Hallynck and Didier Poskin and completed her training under, among others, Hervé Douchy, Bernard Woltèche, Jean Tubéry, Edmond Baert, Lluís Claret, Daniel Rubinstein and Muhiddin Dürrüoglu-Demiriz. To broaden her musical horizons she studied in the Department of World Music at the Academy of Music and Drama of Gothenburg under Hans Kennemark. Now living in Sweden, she is a competent player of traditional Swedish music playing together with major musicians in several different groups. These include a duo with a Swedish National Fiddler Ellinor Fritz, « Ellinor & Leonor » and a Nordic folk music band Septentrio uniting Hans Kennemark on the fiddle and Hannu Kella (from Finland) on the accordion.
With an interest in both Nordic traditional and baroque music, Leonor has spent the last five years refining her skills on the 5-string cello, an uncommon instrument that has given rise to a unique playing style. As one of its few proponents, Leonor has been able to unveil a treasure of baroque music originally written for this instrument, making its depth and beauty available to the public.
She has been awarded several prizes in some major competitions, winning First Prize in the Chamber Music Ensemble category at the "SONBU" International Recorder Competition 1998 in Utrecht.
Working as a freelance musician since 2010, she regularly takes part in a wide variety of musical projects including Convivium Musicum Gothenburgense directed by Sven Berger (early music), Göteborgs Alternativa Orkester (World music), TOKSO Folk String Quartet (Folk), New Tide Orquesta (Minimalism/Tango nuevo), Merje Kägu Septet (Classical/Jazz), WoodsFolk (Folk rock) and singer-songwriters Maria Pihl, KG Malm, Christoffer Svärd and Jonathan Hilli. Leonor has toured in many European countries, USA and Korea and promotes cello through workshops. She has released two CDs: "Nordic Folk Music" with Septentrio for ARC Music, London and "Mormors trädgård" with Ellinor & Leonor.
Paule VAN DEN DRIESSCHE

harpsichord, virginal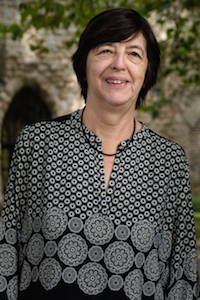 Paule Van den Driessche studied at the Royal Conservatory of Music, Brussels studying piano and harpsichord where she obtained a First Prize (graduate degree) for piano, chamber music, written and practical harmony, counterpoint, fugue and harpsichord as well as a Diplôme Supérieur for chamber music and harpsichord. Her interest for both classical piano and harpsichord has resulted in a very broad repertoire.
In 1988, Paule was accompanist at the first Queen Elisabeth International Singing Competition and in 2004 she accompanied Shadi Torbey in the same competition. She has been involved as a performer in several musical broadcasts for Radio Télévision Belge. Her interest in musical pedogogy and nurturing musical talent has resulted in a recorder teaching method for children, created together with Catherine Verkindere, where she has created the arrangements and accompaniments. Over the years, she has given many recitals and concerts with music ensembles throughout the world.
Since 2000 she has been a member of "Grupo 46" promoting the music of Latin America together with Carlos Palazzo (song), Alejandro Beresi (flute) and Guillermo Cerviño Wood (cello). She retired in 2012 from teaching harpsichord at the Waterloo Music Academy and accompanying classes for Song and for Early Music at the Royal Conservatory of Brussels, working together with, among others, Marcel Vanaud, Frédéric de Roos, Mira Glodeanu and Philippe Pierlot. She has had a long-standing collaboration with soloist Jules Bastin for many years. Her discography contains works for song and piano, violin and piano, and solo harpsichord.